Kerstlook ruilen & lenen! Elkaar de warmte doorgeven.
Vandaag op 8 december zijn guerrilla promotie acties door de Swap Crew. De mode presentatie is de aankondiging van de X-Mas Season Swap op 14 en 15 december 2021. Studenten en docenten van Cibap Vakschool kunnen van 10 uur tot 15 uur een andere kerstoutfit shoppen op afspraak. Op deze dagen is Playground veranderd naar het Green Light Fashion District.
Van 9 t/m 13 december is het mogelijk om kleding in te leveren bij Tessa van Gaalen in Materia. Het is logisch dat de kleding schoon en heel is. Voor jouw ingebrachte kerstkleding ontvang je waardepunten om mee te gaan 'shoppen'. Hoe meer je inlevert, hoe meer je kunt ruilen.
Ook is het mogelijk om jouw favoriete kerstjurk / outfit voor deze KERST uit te lenen. Met de optie om zelf ook een bijzondere outfit te lenen met een uniek verhaal.
Kerstgedachte
Met kerst heeft iedereen wel wat outfits in de kasten hangen welke niet meer worden gedragen. Dit is perfect om te ruilen en/ of te lenen. Kleding van iemand anders kan volledig jouw stijl zijn en het is gratis uit te proberen. Door een kledingruil te organiseren voor de kerst wil de swap crew laten zien dat de kleding een leven lang mee kan. Kleding behoeden voor de enorme textielafvalberg en dat het wordt verbrand.. Ofwel laten we fast fashion de rug toekeren door andere keuzes te maken. Is beter voor het leven op de planeet aarde.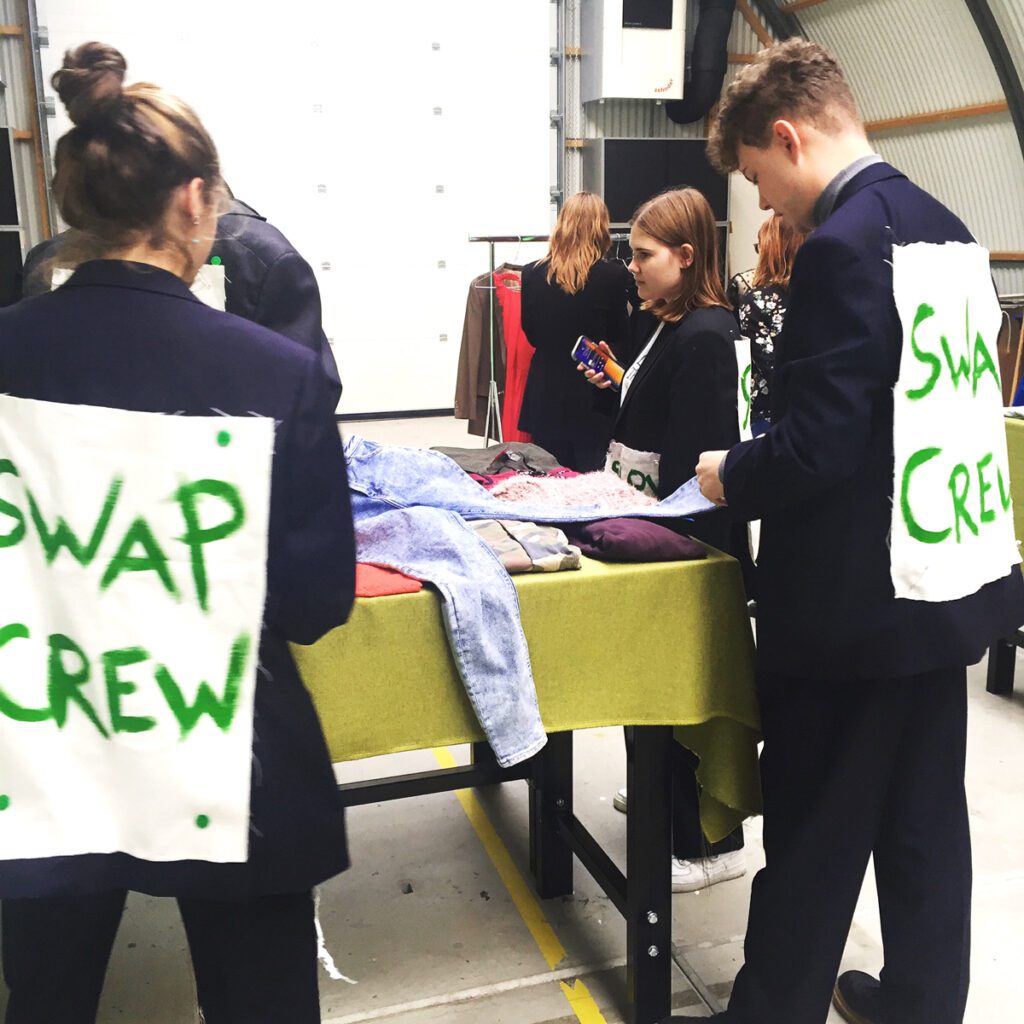 Future Fashion
In een videoclip is een preview van toekomstige mode. Een visionaire voorspelling is dat kleding lenen het nieuwe hebben is. Door kleding te lenen in een kledingbibliotheek heb je keuze uit een enorme kledingkast. Perfect om steeds een andere look te stylen. Als consument betaal je alleen voor kleding, die je werkelijk draagt en doe je geen mis aankopen.
Achtergrond informatie
De Swap Crew is samengesteld uit 4e jaars Cibap studenten, die of een opdracht hadden betreft duurzaamheid of de Sustianable Development Goals SDG). Samen met Map Renes, ECOPOLITAN & Fashion Revolution Zwolle is een guerrilla promotie actie en de Kerstkledingruil voorbereid. Met als doel om andere studenten te inspireren om mode anders te consumeren door hun creativiteit in te zetten. Zoals kleding restylen, decoreren, hergebruiken en restylen of 3d te printen. Als makers mode anders produceren voor een Happy 2050!
Doe mee? Ruil of Leen?! Elkaar de warmte door geven..